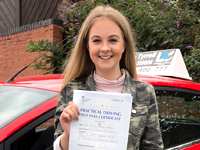 Olivia Beales
Passed First Time
Well done Olivia a well deserved first time pass, it was a pleasure helping you achieve a great result. All the best for future. Thank You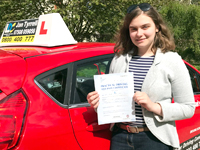 Olivia Daw
Passed First Time
Well done Olivia a well deserved first time pass it was a pleasure helping you achieve a great result. All the best for the future. Thank You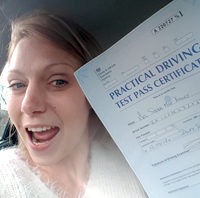 Sophie Bailey
Well Done
I highly recommend Jan, from the moment I contacted her she has been helpful, and fitted me in very well for my needs, Jans approach to teaching is amazing, from the start I felt extremely relaxed and at complete ease. I felt learning with Jan was the best choice I made, and her driving experience is out of this world! No better lady to teach you!!! I promise you that!!! She is totally laid back and keen to get you on the road without the L plates!! With my lessons I received a really helpful guide book, which includes everything! Starting from the very beginning this book has full detail of everything you will need to know and more. It also has mock test papers in the back so this can be practised and gives you detail on what the examiner will be looking out for. Really really useful! Forever thankful to Jan!!!! And super proud to hold a full driving licence!!
Chloe Halliday
Well Done
A massive thank you to Jan who helped me pass. She was very calm and reassuring. I did a semi intensive course and put a lot of pressure on myself to pass and Jan was able to call my nerves and help me. She didn't mind if you made mistakes and wasn't just teaching me to pass a test but how to drive. I wanted to do more hours but Jan was very honest and said she didn't think i needed it but could if I wanted to. I felt very at ease with Jan as my instructor as I had had 4 previous instructors that didn't suit they way I learn. Thank you again Jan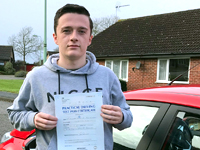 Zackary
Well Done
Well done Zack a well deserved pass it was a pleasure helping you achieve a great result. All the best for future. Thank You.
Jason Gost
Thank You
Well done Jason a well deserved pass it was a pleasure helping you achieve a great result. All the best for the future. Thank You.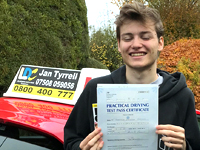 Trafford Rusted
Passed First Time
First of all I'd like to say thank you for getting me to pass first time. Jan is a fantastic driving instructor, she is especially good at listening to her pupils and making sure they are comfortable before each lesson. Something that stands out about Jan's teaching style is that she encourages a more practical approach making each one of the lessons a huge learning curve. Finally mistakes aren't something that bother her, she'll just want you to learn from it and avoid doing it in the future. Thanks for making each lesson fun and getting me to pass.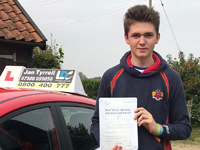 Nicholas Chapman
Thank You
Very good overall Good at listening and adapting lessons and progress towards the student either pushing or giving more time to practice Always encouraging doesn't get angry Nothing is seen as a stupid question Thanks Nick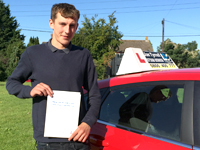 Nathan Isitt
Well Done
Well done Nathan a well deserved pass it was a pleasure helping you achieve a great result. All the best for the future. Thank You.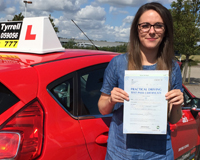 Mellissa Heeley
Passed First Time
Having had lessons 10 years prior to getting in contact with Jan, I was worried that I would forget everything that I had learned and that Jan would find it difficult to pick up from where I had left off- I was wrong. Jan was very understanding and was quick to pick up on things that I was good at and things that I needed to work on. One thing that really stuck out for me was that Jan wasn't teaching me just to pass the test; she was teaching me to learn life-long skills which would make me safe on the road for the future. This quality makes her very reliable, honest, safe and easy to work with- it was like she cared about me rather than just passing a test. The lessons were very flexible and allowed for me to give feedback and reflect on my own driving. This is a different way of teaching to what I had previously experienced- it works so well. With this teaching style and Jan herself, I managed to pass in under 20 hours (over the Summer holidays), passing first time with only 1 minor. I would not have been able to do this without such a great teacher! The last golden nugget I was left with by Jan was: 'They say that passing your test isn't the beginning of your fully qualified driving on the road; it is when you get behind the wheel for the first time, on your own'. It is safe to say that with Jan's help, that is something I am looking forward to doing, rather than feeling scared about it. Thank you so much for your guidance and wise words of wisdom Jan- I couldn't have done it without you.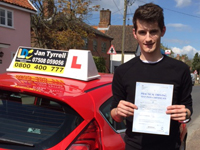 Ben Mitchell
Passed First Time
Firstly thank you for all the help and support building up to my test. The pace that you allowed me to work at was really good - you were willing to push me outside my comfort zones to help my learning but always on hand to help if there was a problem. You were also always willing to go over anything in more detail or at a slower pace when I was struggling with it and never had any issues about me asking to re-do certain things time and time again. I never felt any pressure in my lessons or like you were irritated by my mistakes, which I don't think can be said for all instructors. Lastly you had confidence in me actually passing my test first time when I really didn't!!!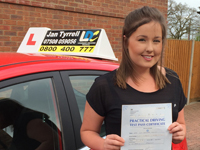 Sky Smith
Passed First Time
I really enjoyed learning to drive with Jan, she Is a fabulous instructor. throughout all my driving lessons I felt really comfortable as she is a really calm instructor. overall the atmosphere is really relaxed and I would defiantly recommend Jan. thanks for all your help.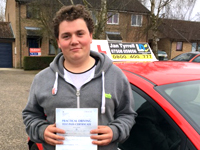 Charlie Baxter
Well Done
Well done Charlie a well deserved pass it was a pleasure helping you achieve a great result. All the best for the future Thank You.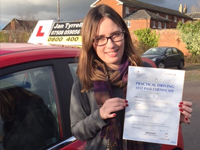 Megan Smith
Thank You
A well deserved pass and was a pleasure helping you achieve a great result. Well done and all the best in the future. Thank You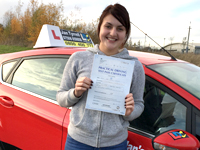 Leah Soanes
Thank You
Jan Tyrrell was an amazing driving instructor she helped me from start to finish with the whole experience! I recommend Jan hugely such a patient lovely woman! I felt so comfortable when learning from her many thanks to Jan Tyrrell.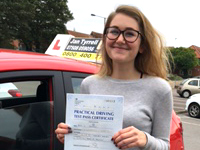 Alex Edwards
A Big Thank You
A big thank you for all your help with Alex and seeing her through her test. She is over the moon and we are very grateful for your help and support at such short notice.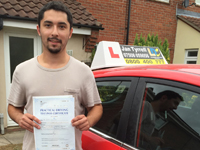 Amar Cohodar
Thanks Jan
I enjoyed my time learning to drive with Jan. She is a good instructor. In particular, she made me feel comfortable and confident in my ability. Jan has a great approach to teaching that allows you the freedom to learn at your own pace and helps you to adapt your technique to a good test standard. Overall, I would highly recommend Jan. Thanks for all the help.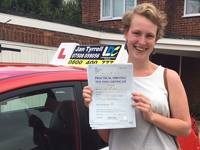 Esther Womack
Thanks Jan
Learn with Jan, she's the best. Going in to my test I said if I couldn't pass with Jan then I couldn't pass at all - and I passed, because Jan is amazing! I failed my test twice last year with another instructor and I didn't have any confidence in my driving, but Jan built up my confidence and improved my driving ability. Because of Jan I feel safe on the road, and furthermore I enjoy driving now. Thank you Jan.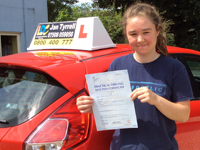 Damson Ellen
Passed First Time
Jan was a great driving instructor. I came to her halfway through learning to drive and she picked up quickly on what I needed to improve on and we focused on those areas which really helped me pass my test. Her feedback each lesson was detailed and quick which was effective to help me improve the next time and become more confident in the car. I passed my test first time and I think this was because of the reminders Jan gave me frequently about what is expected during the test which I was able to use and remember. Thank You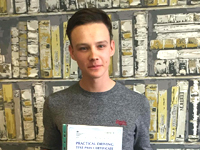 Owen White
Thanks Jan
Thanks Jan for all the help and advice that you have given me, I'm very glad I passed Thank You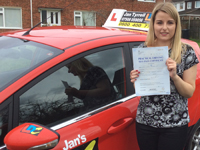 Jemma Lee
Thank You
Jan is very patient and understanding. I would recommend her for any nervous/new drivers. The information pack is also very helpful. Thanks Jan!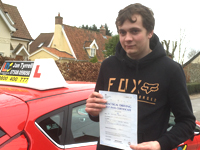 Johnathan Briggs
Passed First Time
I was a very nervous driver but Jan built my confidence with in now time at all . Would highly recommend her to anyone and I passed first time Many thanks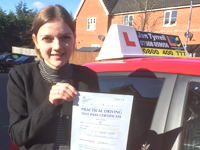 Harriet Robbins
Thank You
Thank you for all of your help getting me to test standard in such a short space of time, we had just under 30 hours of lessons over a week which were intense, exhausting but spot on at the same time. Passing my second driving test with only 2 minors was such a relief, I couldn't have done this without your patience and guidance.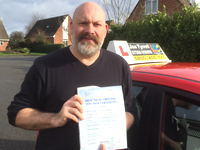 David Preston
Thank You
Jan, thank you. I passed [with three minor faults!] thanks to a great experience using Jan as my driving instructor. I started driving late in life, I was very careful to choose an instructor that would be the right professional for my personality and needs. After vetting a few, I choose Jan as she seemed to be tuned into the correct aspects of driving and working towards a test. With her considerable patience and calm manner, her attention to detail along with her direct but informative nature I felt in extraordinarily capable hands. Getting the free book was a great help, never late and always cheerful and professional, passing after learning with Jan was a delight. I thoroughly recommend Jan to all learners, she will get you there as long as you follow her instructions, practise the things she suggests and realise the trick is to listen and learn from a very experience professional! I'm proud of myself but very grateful to Jan for her time and consideration.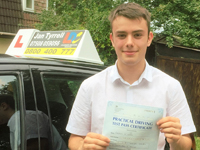 Cameron Clarke
Passed First Time
When I was younger I always had the desire to drive. So soon as I turned 17 my mum took me out driving and taught me clutch control, gears and general driving around the country. It eventually got to a stage where I needed lessons to start driving in towns, dealing with more traffic and stressful environments. This is when I found Jan and started a mid-way course. This consisted of 20 hours and within those 20 hours she taught me everything I needed to know ready for a test and still had sufficient time to practise. She was very calming and clear, I would highly recommend her to anyone, without her I would have not passed as soon as I did (Within 3 months of turning 17). Thanks again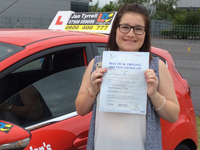 Evie Bloomfield
Passed first time!
When I first started to learn to drive, I didn't get on with the instructor, it then took me 2 years to start up again, and that's when I found Jan and I'm so glad I did! She is calm, relaxed, easy to talk to and determined to make you a safe driver! I was close to giving up but Jan kept encouraging me and supporting me until I did it! I never would of thought I would of passed first time but with Jan being a great instructor I got through it!
I would definitely recommend Jan! Thank you so much for everything you did! I DID IT!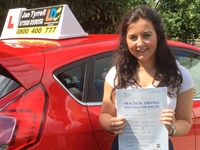 Amber Lester
After not enjoying my lessons with a previous driving instructor I chose to book with Jan and I'm very pleased I did. I really enjoyed my lessons because she made me feel relaxed and confident when driving. I felt that the driving book she provided was also very helpful in aiding me to pass my test.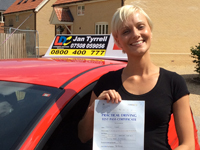 Hannah
Passed First Time
After completing 20 hours of driving lessons with two instructors from a different driving company and not seeing much progress at all, I had lost all confidence and I gave up on driving lessons. A few months later my husband deployed and I realised just how important having a driving license is and how much not having one was affecting my quality of life. I did some research into the driving instructors available in my area and soon came across Jan at LDC.
My previous instructors had both been male so as a 25 year old female I was quite looking forward to learning with a female instructor. I booked myself on a semi intensive course of 20 hours over a week and from the first day of lessons I realised what a fantastic instructor Jan is. She is very professional but at the same time she is kind and patient with her advise and teaching technique. I was completely at ease from day one and she soon gave me back the confidence I was missing to be able to advance to test standard.
Over the 5 days of lessons she successfully taught me how to be a good and safe driver and we worked on all of my weaknesses including manoeuvres, roundabouts and independent driving so that they were above standard for the test. I am so happy that I chose Jan as my driving instructor because I went on to pass my practical driving test for the first time with only 4 minors. She is not only a fantastic driving instructor, but a great teacher and a lovely person. I look forward to seeing her again soon for my pass plus course. Thank you Jan!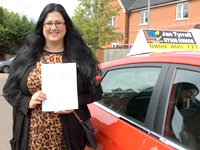 Victoria Moore
Passed First Time
Thank you so much for everything you taught me. I think you are a wonderful instructor, so calm and collected, helped me with my nerves. I learnt from you so well and you are genuinely a lovely person. I've been driving to work everyday and as expected the 1st journey was a bit daunting but I wouldn't of done it without you. Thanks Again.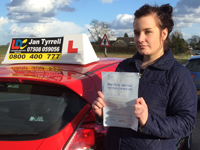 Tara Baker
Passed First Time
Thank you for teaching me! Highly recommended! Great instructor! Also very reliable! Very please :)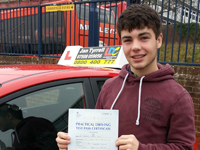 Tanner Call
Having never driven before I found Jan to be calmly spoken, patient and understanding. she moved me forward at the pace that was right for me. I found her instructions clear and concise and this made feel confident when driving. I had a varied experience driving on country roads, town roads and dual carriage ways. Any problems that I had Jan addressed and help me solve them. I enjoyed my driving lessons and would like to thank Jan on helping me pass first time.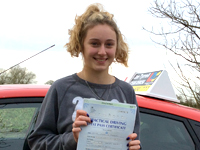 Olivia
Thank you Jan!!
I would highly recommend Jan! She is patient, friendly, approachable with any kind of question related to driving no matter how stupid, professional and she has a great sense of humour!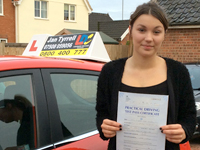 Tierney Moyse
Jan is a great instructor, she was always very patient with me and always reliable, she made me feel confident in myself and if it wasn't for her I wouldn't of passed first time. I would highly recommend her.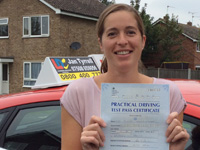 Selina Warrington
Passed First Time
I did the 1 week intensive driving course with Jan, I started driving lessons on the Sunday and ended with my driving test on the Friday which I passed! I am over the moon with this, the course was great and structured well to get me to learn everything I needed to. Jan was fabulous, her approach to teaching learner drivers is excellent and suited me well. Thanks again, you were wonderful!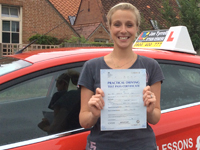 Narelle
An excellent instructor, who I would highly recommend.
Jan was a very calm person, she made me feel at ease as I was a very nervous driver. Using the gears was a daunting experience for me, as I had only ever driven an automatic and my licence was from another country, so I was unfamiliar with UK roads. I had many bad habits, which quickly disappeared due to Jan's perseverance and patience. I enjoyed my lessons and it didn't feel like an effort, even on bad days when I came home thinking I would never learn, Jan built up my confidence. It was a great learning experience.
Jan has the ability to create a very real scenario when doing the mock test and I felt it was because of this, I controlled my nerves on the day. A very thorough instructor, I beleive I was taught above normal standards in comparison to other instructors I've been with in the past.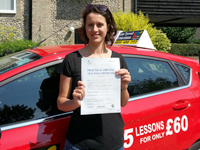 Crystal Whitaker
Jan is an amazing instructor - highly recommended!
I first learnt to drive with another instructor when I was 17 and, after some disappointments which seriously dented my confidence for many years during which time I did not consider learning again, I took up lessons again with Jan, some 14 years later. Needless to say I was incredibly nervous but throughout good days and not-so-good days, Jan was there providing patient, expert guidance and building my confidence with a smile. Always professional and friendly, Jan has helped me not only pass the driving test successfully, but through her explanations and teaching style she has given me a real understanding of road safety, of other road users, conditions and the vehicle. I am truly grateful to Jan and am looking forward to doing Pass Plus with her!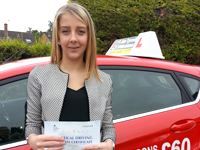 Alice
First Time Pass
Jan is a really good instructor, she is very patient and always reliable. With work I was very limited on times to take my lessons but Jan was always flexible and willing to meet me at work to take lessons if necessary. Jan always tried to simplify the teaching to meet my needs and help make things easier for me. When I first learnt to drive I was extremely nervous but by the time I had finished learning with Jan I was a lot more confident with driving. I world highly recommend her!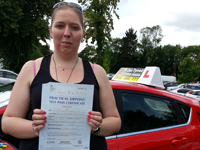 Emma Allen
I was nervous and apprehensive about learning to drive. After a few weeks I thought about giving up. But with the help of Jan giving me the confidence and telling me I could do it, I carried on.
The DVD also helped and also the book and buying other books helped. 7 months down the line Jan was right and I passed. This has all been achieved with the friendly and helpful advice by Jan.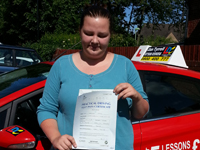 Christina
I was scared of driving and being from a different country where we drive on the right hand side, Jan gave me the confidence to learn how to drive and to be safe on the roads here in the UK. I'm really going to miss my weekly lesson with her as it was a calm and friendly atmosphere to be taught in. After failing my first driving test and having an accident Jan took the time to come around and boost my confidence to get back on the road and only few weeks later i passed my test. I can only recommend her on the highest level, young or old she takes her time and makes you feel like you are all that matters and that you are doing really well, even if you mess up a bit.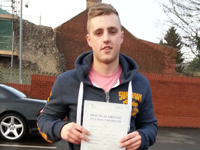 Ben Turner
Passed first time
Been with 2 other instructors, Jan is the best ive been with. Very patient keeps you calm and realy wants you to pass.